As demand for Ethernet and Wi-Fi has increased, networking technology has progressed significantly. LANs need extra bandwidth to manage traffic from live streaming video, NAS, VoIP, virtualization, cloud computing, and IoT devices and services.
This article will examine a couple of the top 10 networking technology trends for 2022. Due to the demand for high-speed internet, cloud and edge computing models, and server-to-server data transfer, high-bandwidth and low-latency network technologies are increasingly necessary.
What is Network Technology?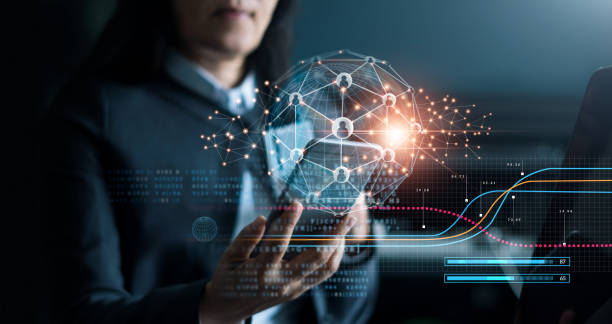 The technology is used to transfer data between small and large quantities. This technology applies to both corporations and educational organizations. Network technicians are professionals in installing, configuring, and debugging network technology, which is used to transmit digital data, including audio, video, and data files. Depending on the organization's needs, messages and data can be transmitted by networking, email, or other means.
A business's organizational and informational requirements and determining the expenses of hardware, training, installation, security, and account administration are essential components of network growth. Technicians are responsible for maintaining a network by supporting organization personnel with any technical issues following its implementation.
Types of Network Technology
I am classifying network technology based on Transmission and scalability. This technology facilitates the exchange and transfer of data.
Network Technology based on Transmission
Point-to-point and multipoint networking concepts each have a place in the larger scheme of transmission-based network technologies and can be useful in their own right.
Point to Point
When the sender and receiver (nodes) are directly connected in point-to-point communication, achieve data transmission via a guided medium for wired networks and an unguided medium for wireless networks. The diagram below illustrates point-to-point network technology.
Multipoint
A standard medium is employed in multipoint to form a linear connection between numerous nodes. The graphic below illustrates multipoint network technology.
Similar to time-sharing, if space is not shared, this sort of Transmission runs predominantly on one of these links. Each node in the first connection has a defined time slot for communication. In contrast, nodes in the second connection can communicate simultaneously.
Network Technology based on Scale
Using principles such as LAN, MAN, WAN, PAN, and VPN, deploy scalability-based network technologies.
 LAN (Local Area Network)
The IEEE 802 network is another name for LAN. It connects devices such as computers, laptops, and mobile phones over small distances, often 100m to 10km. Users, speed, range, and mistake rate are the key determinants of this network's characteristics.
MAN
MAN is the abbreviation for the Metropolitan Area Network. In this network, a bridge joins multiple LANs to form a metropolitan area network (Metropolitan Area Network).
WAN
The term Wide Area Network is abbreviated as WAN. A router connects multiple Metropolitan Area Networks (MANs) to form a Wide Area Network (WAN) in this type of network (Wide Area Network). These networks are classified into two types: private WAN and public WAN. A WAN is made up of several components, including a bridge, a router, a gateway, and others.
VPN
A virtual private network (VPN) is established on the public network to transfer and communicate data from node to node. When a user has access to a virtual private network (VPN), he can communicate data in complete privacy and without restrictions.
WLAN
The contraction A WLAN is a wireless local area network. Although WLAN employs wireless network technologies such as Wi-Fi, it functions similarly to a LAN. This network's applications are similar to those of a LAN, but these networks do not require wired connections.
Top 10 Networking Technology Trends 
1. 5G and Wi-Fi 6 technology 
5G refers to the fifth generation of mobile phone technology. It is characterized by greater wireless service flexibility, decreased latency, and increased speed. It promotes the development of new applications by expanding network bandwidth and data rates, moving workforces, and extending automation. 
5G enables seamless roaming between cellular and Wi-Fi networks. The Internet of Things exacerbates the problem of concurrently linked wireless devices by reducing wireless network performance, which 5G would remedy. Wi-Fi 6 capable devices, such as PCs and smartphones, must accept new standards even though the Wi-Fi 6 infrastructure is complete.
2. Artificial Intelligence (AI)
Using AI and ML, resolve complex network and business problems in real-time. Small cities, manufacturing, networking, and security are examples of user situations. ML can create predictions using network data, and AI can act intelligently based on these predictions. Integrate automation systems with self-operating networks using advanced analytics.
3. Augmented Reality and Virtual Reality
Virtual reality (VR) and augmented reality (AR) technologies enhance customer experiences and application functionality. AR is predominantly utilized on smartphones and tablets to exhibit interior design, enabling business owners to virtually display furnishings.
4. Cloud Computing 
Cloud computing enables a more seamless transition to remote work and more effective management of virtual workspaces, both of which contribute to increased company continuity in the event of an emergency. The use of multi-cloud policy management ensures that network and security policies are applied consistently across multiple clouds.
5. DevOps 
It is associated with IT and software development. DevOps bolsters the relationship between network engineers and designers to make operational modifications to services.
6. Digital Transformation 
It supports using digital technologies to transform organizations or services by replacing manual procedures with digital ones. Digital forms are processed, stored, and sent through digital devices and networks due to the digitization process.
7. Intent-based networking (IBN)
This method bridges the gap between business and information technology. The business purpose is continuously captured and aligned to the end-to-end network regarding application service levels, security regulations, compliance, operational, and business processes. 
One of the primary objectives of networking teams will be to virtualize IoT devices in isolation from the remainder of the network. Microsegments will allow IoT devices to operate on the same corporate network while decreasing hazards to other network components.
8. Internet of Things (IoT)
The purpose of IoT is to connect the unconnected. As IoT gadgets acquire the capacity to connect and communicate with other devices and people, they alter our way of life.
9. Data Security
The security of a network depends significantly on its usefulness and integrity. Adequate network security regulates network access and prevents several threats from entering or propagating within the network.
10. SD-WAN 
SD-WAN is a software-based management technique for wide-area networks (WANs). In multisite systems, this technology minimizes operational costs and optimizes resource utilization. Using SD-WAN technology, network managers can improve the speed of mission-critical applications without sacrificing the security or privacy of sensitive data.
In SD-WAN solutions, which centralize the control plane from which multiple devices are managed, the SD idea divides the control plane and data plane. Control Plane operates as a shared service and is accessible to all administrators within an organization or a multi-tenancy system.
SD-WAN enables SaaS, infrastructure-as-a-service in the public cloud, and on-premises data centres to optimize the performance of these applications. SD-WAN offers excellent security for every user and device, irrespective of their physical location.
Essential Facts About a Career in Computer Networks Technology
The Bureau of Labor Statistics (BLS) projects a 6% rise in employment for computer network architects between 2016 and 2026. Moreover, network and anticipate computer system managers to have a 6 percent increase in demand. Those with degrees, professional qualifications, and work experience have the most significant employment opportunities. According to the BLS, network and computer system administrators receive an annual mean wage of $82,050. In contrast, network architects get an annual mean wage of $109,500.
An associate's degree in networking technology or a closely related field is typically necessary for an entry-level networking technician position. A bachelor's degree in network technology, computer systems, or recommend a similar field for networking technology professionals. Microsoft and Cisco, as well as trade organizations and institutions, offer professional certificates that allow you to work as an entry-level network technician.
Continuous training is necessary to keep up with the most recent technologies. Typically, workshops and courses are the only means of obtaining this instruction. To become a networking technician, you may also require familiarity with UNIX, Windows, Cisco, and Novell operating systems. Also essential is knowledge of the various networking models, protocols, media, and hardware. Included are systems for local area networks (LAN), wide area networks (WAN), and the Internet (WAN).
Networking technology specialists must be analytical and careful since they analyze data networks and how to connect them based on customer requirements. In addition, requiring you to draft designs defining specific network components. Because you may be in charge of engineering teams, excellent interpersonal and leadership abilities will also be beneficial (such as computer hardware engineers).
To Sum it Up
In conclusion, networking technology is a vital part of everyday life. It is also a growing field that requires you to be well-educated and honest in your work. Suppose you can make networking technology a significant part of your life. In that case, you can expect a job that will keep you on your toes and provide you with the opportunity to help build a future network.
Having a great network security service provider will cause a lot of advantages on your part. Seven IT is one of the best ICT solution providers in the world, so contact them as soon as possible!