Employees with remote work arrangements may find it difficult to maintain productivity while juggling the responsibilities of their day job and family and personal obligations. Working remotely has numerous advantages, including setting your hours and avoiding commuting. The 10 tips below can help you stay organized and meet deadlines while working from home.
10 Ways to Maximize Productivity When Working Remotely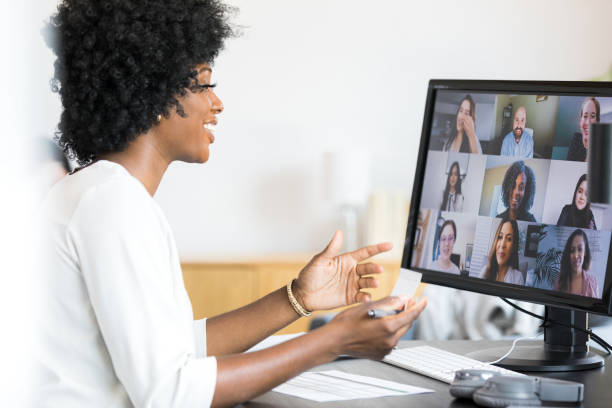 1. Establish a Routine With Your Family
Your school-aged children may occasionally be at home during the work week. Caring for children can make it significantly more difficult for parents who need to work from home to stay productive.
If you find yourself in this situation, make a clear schedule for the entire family. If you require child care, consider splitting your shifts so that one partner works mornings and the other works evenings. Consider going to bed an hour earlier so that you can work while the house is quiet. It could eventually reduce some of your workloads.
2. Organize Your Workspace
Working from your bed or couch is tempting, but consider creating a more formal workspace. You may use the dining room as a temporary workspace or have a permanent desk and office space at home. Your workspace should ideally have a door to keep out distractions and have everything you might need nearby, like a computer, printer, paper, headphones, etc. Avoid standing up frequently to retrieve items you may require, as this will reduce your productivity.
3. Rise Early and Dive in Immediately
When there is no need to go to work, it can be tempting to sleep in. However, waking up early can sometimes be a wise decision if you struggle to stay productive. Set the alarm for one hour before your partner or children's waking time. Prepare your favorite morning beverage before diving into one of your more challenging assignments or emails. You'll be surprised at how much you can get done when the house is quiet.
4. Take Rest Periods
You only have so much energy. If you genuinely want to be productive, consider taking regular breaks and resting your mind and body. Spend a few minutes standing up, getting fresh water, or petting your dog every hour or so.
Take longer breaks to interact with others a couple of times per day. Play with the kids for 20 minutes, go for a walk with your significant other or pet, or call your parents. You are temporarily diverting your attention away from tasks to aid in recharging.
5. Get Rid of the Electronic Distractions
While social media use at work is usually restricted, it is often tolerated. Unfortunately, it is all too easy to fall down the rabbit hole. A glance at the comments on a post can cost you an hour of productive time.
To avoid these digital distractions, you must eliminate them. Remove all social media bookmarks and log out of all accounts. When trying to work, turn off all alerts and notifications and keep your phone in the bedroom. Save social media apps for later after you leave work for the day.
6. Schedule Email Checking Times
Set aside times to check your email unless your job requires constant access. Every new message can be an interruption if your inbox is always open and visible. It can take your attention away from your current task, causing you to lose concentration and lengthening the time it takes to complete your to-do list. Managing emails in sections may be more efficient.
7. Create a To-Do List Daily
A daily to-do list can help you stay on track. At the end of each work day, you should list what needs to be done and when. Include any meetings or phone calls that you will be participating in. You'll get a head start if you access this list as soon as you log on the following day.
8. While You Can, Multitask
You will have additional responsibilities throughout the day if you work from home. You might also have to do laundry, dishes, and walk the dog. To keep up with these, look for opportunities to multitask whenever possible.
Do you need to purchase more coffee? Before you leave, start the automatic vacuum cleaner. Are you on your way to the kitchen? Run a load of laundry before returning to your seat. Perform these minor tasks whenever possible.
9. Consider Meal Planning
There are no vending machines nearby, and employees cannot quickly grab a quick lunch on the street. You may be responsible for meal preparation (and maybe those of your kids and spouse, too) when you work from home.
Meal preparation ahead of time is an excellent way to avoid becoming bogged down by cooking. Prepare a few meals ahead of time on Sundays and portion them into food storage containers. It eliminates the need to prepare meals for the rest of the week during work breaks. Because not everyone in a large household is hungry simultaneously, this method works well. When people are hungry, they have more options.
10. Provide Office Hours, Whenever Possible
Set specific times when you will be reachable by phone, email, or online and available to work if your employer allows it. Completing work is essential, but so is taking time to relax, spend time with loved ones, and decompress. Establish appropriate professional and personal boundaries.
What Is Remote Work?
Remote work is the act of an employee working from a location other than the employer's main office. It could be a worker's home, a co-working space, another communal area, a private office, or any other location other than a traditional corporate office building or campus.
What Is the Appeal of Remote Work?
Remote work has grown in popularity because it benefits both employers and employees. The COVID-19 outbreak, which prompted many businesses to quickly transition from a traditional face-to-face work environment to a completely remote workforce for health and safety reasons, rekindled interest in the concept.
The benefits of remote work, such as shorter or no commutes, easier hiring and recruitment, and higher productivity, all contribute to its enduring popularity.
How Does Working Remotely Operate?
Working remotely necessitates the development of the appropriate culture, methods, and technology to enable virtual teams to function productively from any location. To be successful, there must be a cultural expectation that individuals and teams will work remotely regularly. Despite the lack of a detailed guide for this method, a successful remote workforce frequently possesses the following characteristics:
Robust, Trustworthy Connectivity
Virtual teams necessitate high-speed internet and mobile technologies that can withstand heavy use.
Collaboration and Communication Tools
Remote workers must be able to collaborate as if they were physically present. It necessitates using secure, high-quality apps and platforms for technologies such as chat, videoconferencing, file sharing, remote desktops, and other essential business needs.
In general, high-performing virtual teams have cultures of trust and collaboration that prioritize outcomes over "face time" or actual office hours. A management environment that encourages remote work incentivizes it and provides teams and individuals with the resources they require to thrive in this environment.
What Are the Benefits of Working Remotely?
Working remotely is popular among individuals and corporations because it offers distinct advantages over traditional on-site employment. These are some examples:
Reduced or Stopped Commuting
Remote employees often spend less time commuting to the office, especially if they prefer to work from home. It usually results in a significant increase in a remote worker's weekly personal time. A person who commutes 30 minutes each way could save five hours per week by working from home and saving money on transportation.
Improved Business Continuity
Because members do not need to be in the exact location to do their jobs, virtual teams are more organically adaptable. It could be beneficial for business continuity planning, especially if people cannot work on-site due to unplanned or emergency circumstances. Remote work, on the other hand, may be made easier if enterprise cloud storage solutions are available.
Reduced Demand for Office Space in Corporations
Businesses with a large remote workforce frequently require less physical office space, resulting in cost savings and improved long-term flexibility.
Advantages of Hiring and Recruiting
When hiring for a remote job, a manager has a bigger pool of candidates because they don't have to reside nearby, and the company doesn't have to pay for relocation packages. It benefits any recruiter or hiring manager working in a highly competitive local labor market or dealing with a skills gap for specific positions.
Best Practices for Working Remotely
While there is no "correct" way to operate remotely, several fundamental best practices set the stage for success. These are some examples:
Policies and Guidelines That Are Clear
Is someone expected to be "in the office" (or online) by a particular day? How are outcomes assessed? Use hardware and software for business purposes? …and so on.
A virtual organization can exist. Managers are primarily responsible for building collaborative, communicative teams that care about each other's success. Social gatherings and retreats, as well as activities such as recognizing team and individual accomplishments, may be included.
Conclusion
There are a lot of great tips in this blog post about how to maximize productivity when working remotely. I think the most important thing is to find what works best for you and your situation. Maybe you need to set up a dedicated workspace, or maybe you need to set stricter boundaries between work and home life. Whatever you do, make sure you stay organized and focused, and you'll be able to get a lot done while working remotely.
Furthermore, if you want to get the most out of your devices or run a business with remote workers, you'll need to consult with the best IT consultants. Seven IT offers their customers the best advice for designing, implementing, and maximizing their existing infrastructure, as well as making better decisions for investing in new IT assets.