It is critical to be aware of cybersecurity threats because they will undoubtedly have an impact on the progress of your systems. Experts in cyber security continually protect computer systems from various cyber threats. Cyberattacks are launched daily against both public and private networks, and the range of these attacks has exploded. John Chambers, the former CEO of Cisco, stated, "There are two categories of companies: those that have been hacked and those that are unaware they have been hacked."
Cyberattacks can occur for several different reasons. One is currency. A cyber attacker could render a system inoperable and demand payment to restore it. The sophistication of ransomware assaults, which demand payment to unlock files, is at an all-time high.
Personal information stored on mobile devices and the use of insecure public networks frequently cause cyber attacks against individuals and businesses.
Monitoring the evolving and increasing frequency of assaults is essential for enhancing cyber security. A cyber security master's degree online can help be incredibly advantageous for employees seeking to expand their knowledge of cyber security dangers and information. Graduates of the online Master of Science in Cyber Security program at the University of North Dakota can anticipate gaining a comprehensive and advanced understanding of cyber attack strategies.
What Is a Cyber Security Threat?
A cyber security threat is any potentially destructive attack that seeks illegal access to data, digital activity disruption, or information contamination. Cyber risks may originate from corporate espionage, hacktivists, terrorist organizations, adversarial nation-states, criminal organizations, lone hackers, and disgruntled employees.
Multiple high-profile breaches have exposed critical data in recent years. In the 2017 Equifax breach, for instance, the personal information of 143 million individuals, including birth dates, addresses, and Social Security numbers, was compromised. In 2018, Marriott International announced that hackers had compromised its servers and stolen the personal information of roughly 500 million customers. The organization's failure to implement, test, and retest technical safeguards such as encryption, authentication, and firewalls permitted the cyber security threat to existing in all instances.
Because cyber attackers might use sensitive data to steal information or access bank accounts, cyber security professionals are vital for protecting private data.
Top 10 Cybersecurity Threats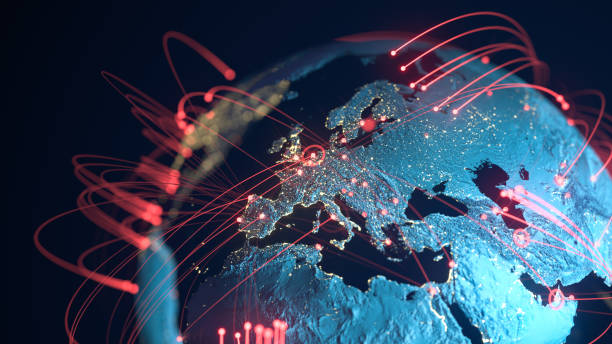 1. Social Engineering
Among the most harmful types of fraud is social engineering hacking techniques since it relies more on human error than technical vulnerabilities. It is much simpler to fool a person than to compromise a security system, making these attacks even more deadly. 85 percent of all data breaches involve human interaction, according to Verizon's Data Breach Investigations report, and it is clear that hackers are aware of this.
In 2022, it is anticipated that social engineering assaults such as phishing and email impersonation will incorporate new trends, technologies, and approaches. For instance, cryptocurrency attacks surged by approximately 200 percent between October 2020 and April 2021. They are anticipated to pose a significant threat as Bitcoin, and other blockchain-based cryptocurrencies acquire recognition and value.
2. Exposure to Third Parties
Cybercriminals might evade security measures by infiltrating less secure networks belonging to third parties with privileged access to the hacker's principal targets.
At the start of 2021, hackers compromised more than 214 million Facebook, Instagram, and Linkedin accounts, a noteworthy example of a third-party breach. The hackers acquired access to the data by compromising Socialarks, a third-party contractor with access to the networks of all three firms.
In 2022, the prevalence of independent contractors undertaking jobs that full-time workers formerly performed will increase the likelihood of third-party security breaches.
More than half of firms are more likely to hire freelancers due to the COVID-19-induced shift to remote work, according to an estimate of labor trends for 2021. According to CyberArk, 96 percent of firms offer these third parties access to their most essential systems, giving a possible entry point for hackers to access their data.
3. Awful Configuration
Almost usually, even professionally installed and configured security systems have at least one fault. Eighty percent of the external penetration tests that the security software company Rapid7 did showed a mistake use that to attack the system. When the attacker accessed the internal system, the proportion of vulnerable configuration errors jumped to 96%. (i.e., trials simulating access via a third party or penetration of an actual office).
The COVID-19 pandemic, social and political upheavals, and persistent financial stress are all expected to lead to more careless mistakes at work in 2022. It will give cybercriminals more opportunities.
According to a Lyra Health survey, 81 percent of workers had mental health problems due to the epidemic, and 65 percent of workers reported that their mental health directly impacted their work performance.
This stress will only make a problem that already exists worse. According to the Ponemon Institute, 50% of IT professionals don't know how well their cybersecurity tools work. It means that at least 50% of them aren't doing routine internal testing and maintenance.
4. Poor Online Behavior
Cyber hygiene refers to regular technical usage habits and practices, such as avoiding open WiFi networks and implementing security measures such as multi-factor authentication or VPNs. Unfortunately, the study concluded that the online security behaviors of Americans could be better.
42% of companies use post-it notes to handle passwords, while nearly 60% rely on employees' memories. 37% of individuals utilize two-factor authentication for their accounts, but 54% of IT professionals do not require it for their work accounts.
Only 45% of Americans believe they would change their password following a data incident, and only 34% do so regularly.
As more people work from home, weak password-protected systems are becoming easier to access from unprotected home networks. Sticky notes are being used as passwords in public coffee shops, and employees are signing in with their own devices that are much more likely to be lost or stolen.
Businesses and people who fail to update their cyber security practices are in greater danger than before. 50% of IT personnel report reusing passwords across work accounts, compared to 39% of the overall population.
5. Vulnerability in the Cloud
In reality, contrary to popular opinion, cloud security has diminished with time. IBM reports that cloud vulnerabilities have surged by 150 percent over the past five years. According to the report, more than 90 percent of the 29,000 breaches reviewed in Verizon's DBIR involved web application vulnerabilities.
According to Gartner, cloud security is now the cybersecurity market segment with the highest growth rate, increasing by 41 percent from $595 million in 2020 to $841 million in 2021.
Initially, specialists projected a widespread return to work. Still, as new COVID strains and outbreaks have increased, this scenario has become less realistic. As a result, cloud security breaches are anticipated to remain a significant risk until 2022.
Implementing "Zero Trust" cloud security architecture is one of the most recent advancements in cloud security. To implement the necessary verifications at each step and sign-in, zero trust systems are designed to operate as if the network has been compromised. It indicates that they do not allow identified devices or devices within the network perimeter to access the network for an extended duration.
This security became famous in 2021, and its widespread adoption is anticipated in the following year.
6. Smartphone Vulnerabilities
The COVID-19 epidemic contributed to an increase in mobile device usage. Pandemic experts have recommended for wider usage of contactless payment systems and mobile wallets to limit disease spread. Cybercriminals have a broader target when there are more users.
More enterprise provisioning suites are implementing bring-your-own-device rules due to the increase in mobile device vulnerabilities caused by remote work. In 2021, according to the Mobile Security Report by Check Point Software, 46% of firms reported a security incident brought on by a rogue mobile app that a worker downloaded.
Cybercriminals have also attacked Mobile Device Management systems, which are supposed to assist organizations in controlling mobile devices while keeping corporate data secure. MDMs are linked to the entire network of mobile devices, allowing hackers to target all employees simultaneously.
7. Internet of Things (IoT)
Because of the pandemic, more than a quarter of the American workforce stopped going to work. These people took their jobs home, where 70% of households had at least one smart device. In 2021, there will be 1.5 billion smart device or IoT security breaches.
Combining IoT connection with the ordinary American's subpar cyber hygiene measures creates a new universe of threats for hackers. The average smart gadget is hacked within five minutes of connecting to the internet. A smart home with many IoT devices may see 12,000 hacking attempts per week, researchers say.
The number of intelligent gadgets ordered will double by 2025, extending the network of access points used to infiltrate commercial and personal networks. In 2023, there will be 3.5 billion cellular IoT connections. By 2025, IoT-based attacks will account for approximately a quarter of all commercial threats.
8. Ransomware
The average ransom payment rose from $5,000 to $200,000 between 2018 and 2020. In addition to financial losses, ransomware attacks can affect organizations by blocking access to their systems and demanding payment. On average, system downtime following a ransomware attack last 21 days.)
66 percent of the 1,263 cybersecurity experts surveyed in 2021 said that a ransomware attack cost their company a lot of money. According to one-third of respondents, their company lost senior leaders due to termination or resignation. In contrast, 29% reported that ransomware attacks had pushed them to eliminate roles.
Over time, ransomware has increased in sophistication, accessibility, and utility for hackers. "Ransomware-as-a-Service" companies give crooks pre-made ransomware for a cut of successful payments. RaaS has made ransomware attacks easier for inexperienced hackers, increasing their prevalence.
Final Words
It may be difficult to keep up with and defend against emerging cybersecurity threats. Millions of hackers work around the clock to develop new ways to attack faster than organizations can improve their defenses. Even the most thorough cybersecurity system can't protect against attacks.
Therefore, it makes sense for you to contact the most significant IT firms that offer the best services. Seven IT Technologies offers an array of IT services, such as network, server, and user provisioning.