Your network serves as the foundation for your company's activities. A network must be safe, productive, and in excellent condition for every modern organization. However, as businesses include more technology and devices, networks become more complicated, making it difficult to maintain security and maximum performance. Regardless of these obstacles, you must be able to manage and maintain your network successfully; this is where network management comes in.
This article discusses network administration, such as what it is, what it comprises, and why it is vital for businesses. Some best practices to get you started.
What Is Network Management?
A network management system collects procedures, tools, and software to administer, operate, and maintain network infrastructure. Network management systems collect and analyze network data before making configuration changes depending on the results to improve network availability, performance, reliability, and security.
Switches, routers, gateways, repeaters, and other network devices can be configured and connected to your network using network management. It manages virtual nodes such as applications and ends users, as well as their digital connections and rights, in addition to handling hardware.
What Is Involved in Network Management?
Network management involves four board responsibilities:
1. Network Provisioning
Configure the network and its servers and devices to allow authorized users access to the network. Because its key issues are connection and user access, it focuses primarily on device and identity management.
2. Network Configuration
Defining and maintaining a network in a desirable state is known as network configuration. It is required to assign network settings, policies, and controls to maintain the network, track and report data, and make configuration changes. Host configuration, firewall configuration, router, switch setup, and network topology management are all part of network configuration.
3. Network Security
Security systems, policies, and controls are part of establishing network security in place to prevent unwanted access, attacks, and damage. Network security aims to detect and eliminate security threats while mitigating compliance risks.
4. Network Measurement
Network measurement entails testing, monitoring, and troubleshooting to ensure that criteria for availability, integrity and security are met. Measuring network metrics makes it easier to create benchmarks, monitor performance, discover performance issues, and reduce downtime and network disruptions.
How Does Network Management Work?
A network management system typically collects critical network performance indicators in real-time. It sends them to a centralized server, on-premises, or in the cloud. 
A control program processes the obtained data to offer engineers vital information so they can make the appropriate changes to network equipment such as switches, routers, access points, etc. Telemetry or the Simple Network Management Protocol is used by network devices to send data to the server (SNMP).
Why Is Business Network Management Important?
Business networks nowadays must accommodate a wide range of hardware, software, and high-value traffic. The increasing complexity of networks makes it impossible to maintain high network service and security requirements without extensive infrastructure visibility and real-time data. Regardless of a network's complexity, network management solutions assist businesses in ensuring a reliable connection, consistent service levels, and, most importantly, increased security.
Any organization can benefit from effective network administration in the following ways:
Improved network efficiency

Decreased unplanned outages and downtime

Increased adaptability that allows for network changes

Improved ROI on network infrastructure investments
What Is Network Management's Function?
The five functional areas of network management are as follows:
1. Error Management
Fault management finds, isolates, and fixes network faults such as transmission, equipment, and interface failures to avoid downtime, performance breakdowns, and data loss. Fault management is perhaps the most critical aspect of network administration.
2. Implementation Management
Configuration management necessitates identifying network components and their connections, gathering configuration information about those components, and defining their relationship to establish, alter, and shut down a network effectively.
Networks are constantly modified and changed when devices are added, removed, or updated. Manually tracking and managing these updates is nearly tricky. Still, configuration management systems make it simple to discover devices, maintain inventories, back up configurations, and monitor changes to assure security and compliance.
3. Quality Management
Measurement of network performance is required to prevent network congestion and inaccessibility. The ultimate goal of performance management is to offer end users consistent service levels while maximizing device and connection capacity. Monitoring network performance provides information on the status and functionality of various network components, allowing for immediate corrective action.
4. Accounting Management
Accounting management is the monitoring and management of network consumption by individuals or groups by business regulations. As a result, network congestion is decreased, and deploy resources more efficiently. Use the data gathered for accounting management to plan network growth.
5. Safety Management
Security management focuses on network and data security. Security is maintained by utilizing a well-designed network and an effective security management system. It employs encryption to ensure that no unauthorized user may access the network. It maintains access and privileges by corporate policies.
Best Practices for Network Management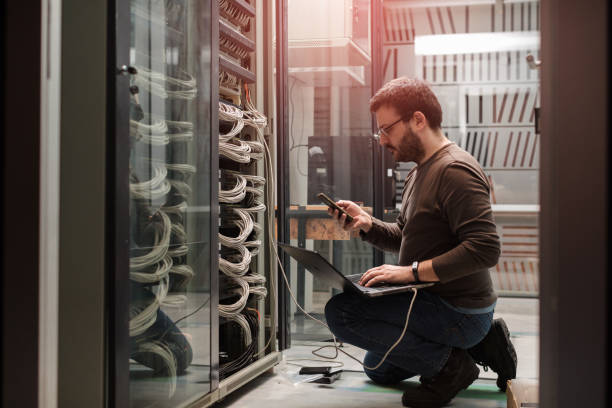 We recommend the following network management processes:
1. Get To Know Your Network
Understanding the topology of your network, linked devices, and data flow is the first step in network management, network security, and anything else network-related. It would help if you had a firm grasp on the following:
A thorough grasp of your network allows you to construct a durable and successful network, handle issues quickly, develop efficient security measures, and analyze critical third-party goods.
2. Be Aware of the Network Defenses
The next stage is to understand your network defenses or the security mechanisms that are currently available and in place. Discuss this subject in a recent blog post on network security principles.
3. Recognize Vital Hardware, Software, and Systems
Create a network architecture diagram that depicts the network core's essential hardware, software, and systems. Include all network-connected devices, such as servers, firewalls, routers, and switches. It will assist you in identifying the components that require the most protection and must remain operational for your company to continue operating.
4. Track Accessing Devices and Users
If you want your network to run smoothly, you must provide your users and devices with adequate bandwidth. Monitoring network consumption identifies bandwidth-hungry apps, users, and devices that delay and interrupt access for all users. You can identify unauthorized or untrusted devices or individuals attempting to access your network by monitoring the devices and users on it.
5. Know Network Compliance Requirements
The network provides access to your company's tools, data, and resources. Network access can access most of your organization's resources, including data. As a result, it stands to reason that the network design solution is subjected to the most stringent regulatory compliance and security audits. Understanding your organization's compliance rules can help you better manage your network and set expectations.
6. Implement Best Practices for Network Security
The most acceptable network security practices are tried-and-true strategies that aid in establishing a functioning and successful security posture for dealing with typical security threats. They allow you to swiftly build network defenses that are both short- and long-term effects and integrate them into your overall security strategy.
7. Create Redundancy to Avoid Network Failures
Your company's network has a complicated architecture of hundreds, if not thousands, of systems, software, hardware, and protocols. Like any other technology, network components are vulnerable to the same risks. Furthermore, if one of the critical network components fails, dispute the entire firm.
It is feasible to reduce the chance of network failures by introducing redundancy to the most prone-to-failure components. ISP connections, routing protocols, network equipment, and so on are common examples. You can increase redundancy by using load balancers, redundant power supplies, failover solutions, etc.
Redundancy affects both data and networks, not just the latter. Redundancy can be provided to your data storage using the 3-2-1 technique. To use this method, make three copies of your data, store them on two different storage devices, and keep one copy off-site. This data redundancy protects your data from a variety of data security risks.
Final Words
Being uninformed of your network's state creates a blind spot that will almost certainly result in reoccurring connectivity issues, network interruptions, and downtime. To efficiently, consistently, and safely run your network, you must know its components, devices, users, and security threats.
Given the complexity of modern networks, that would be nearly difficult to accomplish manually. As a result, network administrators who want to run a safe, high-performance network with little downtime should deploy network management solutions.
Furthermore, Seven IT is an IT service provider that you can contact and consult for your IT problems; they also offer some great services that you will undoubtedly require in your business, so contact them as soon as possible!